TURNING THE PAGE: This Week in Local History – Kirksville Daily Express and Daily News
180 Years Ago, November 23, 1842
This item is available in full to subscribers.
To continue reading, you will need to either log in to your subscriber account, or purchase a new subscription.
If you are a current print subscriber, you can set up a free website account and connect your subscription to it by clicking here.
Otherwise, click here to view your options for subscribing.

If you're a print subscriber, but do not yet have an online account, click here to create one.
Click here to see your options for becoming a subscriber.
180 Years Ago, November 23, 1842
David Sloan, first settler in the city of Kirksville died on this date in 1842 and was buried in the Sloan Cemetery which was located on his farm in what is now the city of Kirksville. He was born in Kentucky May 4, 1794, and married Mary East in Kentucky in 1815. In 1821 the family moved to Boone County, Missouri, and in 1840 Sloan staked out a claim for a farm in the center of what would a year later become Adair County. Here they built a cabin of hewn logs in the location that is now 119 North Main Street (formerly the Stamper Feed Company). The farm apparently extended southward to the site of the original shoe factory on Michigan Street. Prior to his death in November 1842, Sloan requested that he be buried on his farm. The location of his grave became the site of the first cemetery in Adair County (Sloan Cemetery, not to be confused with the Sloan's Point Cemetery). Subsequently, family members and others were buried there also. Later most of the bodies were removed and buried elsewhere. David Sloan's body remained at the burial site he requested, and his grave may be observed on the east side of the 1200 block of South Osteopathy Street. The original stone has been pieced together and placed in a concrete slab.
100 Years Ago, November 23, 1922
Dr. George A. Still, head of the American School of Osteopathy (ASO) since 1918 and chief surgeon at the ASO Hospital since 1907, accidentally shot and killed himself. The tragedy occurred at the conclusion of a party Dr. and Mrs. Still (Ardella Dockery Still) had given for nurses and interns at the ASO Hospital. All the guests had left except for three. Dr. Still was showing the remaining guests an automatic revolver he recently purchased. He dropped the pistol from his hand, and as he was picking it up from the floor, It discharged striking Dr. Still in the left cheek. The bullet penetrated his brain and caused instantaneous death. Coroner Bigsby was called and ruled the death accidental. The news of Dr. Still's death saddened the osteopathic world as well as the local community. Dr. Still graduated from high school in Kirksville in 1897 and the Teachers College in 1900. He attended osteopathic college in Des Moines, Iowa, and studied surgery under Dr. John D. Murphy, who was probably the most renowned American surgeon of his day. Dr. Still also held M.D. and M.S. degrees and studied surgery at the Mayo Clinic as well as in Europe. Under his administration the ASO Hospital gained a wide reputation, and patients were brought to Kirksville from all parts of North America for treatment. Dr. Still was admired and respected. He devoted a large amount of time to Adair County's servicemen during World War I by offering his medical services to them for free or at little cost. His humanitarian spirit led him to take an active role in the Red Cross, Salvation Army, and other organizations that came to the aid of sick, poor, and suffering persons. He was a leader in the movement to bring Rotary Club to Kirksville. Dr. Still was the great nephew of Dr. A. T. Still, founder of osteopathic medicine. Funeral services were held at the Christian Church and burial followed at Forest-Llewellyn Cemetery.
100 Years Ago, November 25, 1922
Two days after the accidental death of Dr. George Still, his father-in-law, Thomas J. Dockery, a well-known pioneer resident of Adair County died. Dockery was born in Indiana and came to Missouri in 1855. At the age of sixteen he answered President Lincoln's first call for troops at the start of the Civil War. After the war he married Julia Linder, and they raised three daughters including Mrs. George A. (Ardella) Still. Thomas Dockery was one of the largest landowners in Adair County where he served as county surveyor and county bridge superintendent. He supervised the construction of the building of the bridges over the Chariton River at Youngstown and Connelsville. Dockery served two terms as Kirksville's mayor and was a delegate to the Republican National Convention in 1900. He was engaged in the real estate and insurance business for over forty years, and his vast land holdings ran into the thousands of acres. He also owned numerous properties in Kirksville including the Dockery Hotel building which bore his name. Thomas Dockery was buried in Forest-Llewellyn Cemetery.
90 Years Ago, November 25, 1932
Excavation work on a basement for a new 16×36 White Cabin building at the corner of Jefferson and Elson Streets was started. Proprietor Dave Whiteside was planning to erect a stucco structure larger than the present frame building that was moved to one side and was to be used while the new building was completed. The White Cabin provided many osteopathic and teachers college students as well as Kirksville residents outstanding meals at reasonable prices.
60 Years Ago, November 21, 1962
Kirksville Rotary Club in observing its "visitors day" on Wednesday before Thanksgiving provided a pleasant and unusual experience for Mr. and Mrs. Bob Curtis and their four daughters of Chariton, Iowa. They were stopped by the highway patrol and invited to be lunch guests of the club. The Curtis family was enroute to Cabool, Missouri, when stopped by the highway patrol car containing the Rotary Club committee. The Curtis car was the third one stopped, but the others had commitments they could not alter. The club and its guests heard the Rev. Ralph M. G. Smith, minister of the First Baptist Church, deliver the Thanksgiving message.
35 Years Ago, November 27, 1987
Under the provisions of a new state statute that returned decisions of county official's salaries to the county, Adair County officials voted themselves a pay increase that caused an uproar on the part of some Adair County taxpayers. The state legislature in hasty last-minute action during their last session set maximum salaries for county officials and instructed county salary commissions to agree what percentage of the maximum salary level they would accept. Since the new salary structure was not proportional to the old salary structure, Adair County officials would be cutting the salary of some positions unless they accepted 100 percent of the maximum salaries. Adair County's elected officials voted themselves a salary increase that set county salaries at 95 percent of that allowed under Missouri State Statute. Three county officials, Alvin Henderson and Myrl Feguson, County Commissioners, and Max Patterson, Adair County Clerk, voted against the proposal, while the remaining county officials voted in favor. All of Adair County's elect officials received a pay increase except Sarah Grossnickle, County Public Administrator, who took a pay decrease of $200. The sheriff, Randy Forquer, received a pay increase of $11,650. Total salary increases were to cost the county $54,180. In voting against the salary increase, County Clerk, Max Patterson stated: "I realize it was a tough decision, but I couldn't vote to spend money I'm not sure we are going to have."
© 2022 by Larry Evans
No comments on this item Please log in to comment by clicking here
Other items that may interest you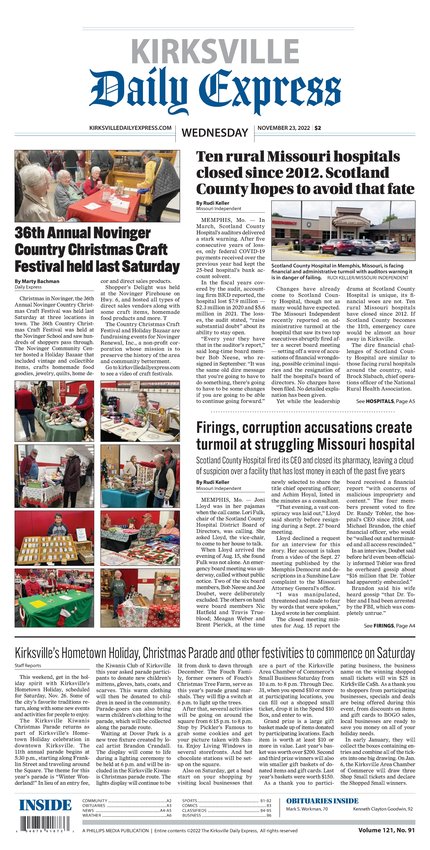 View this issue
Browse other issues
Liberty gas customers in Kirksville to see rates more than triple
Adair County SB40 shows appreciation for family caregivers
Kirksville Area Chamber of Commerce to close for Thanksgiving and Christmas
Donors continue to contribute to Hope's Kitchen fundraiser
Truman Steel to perform holiday concert as next Lyceum event
TURNING THE PAGE: This Week in Local History
Truman football team accepts 3rd invitation to America's Crossroads Bowl
Blessing of the Hunt grand prize winners
Kirksville's Hometown Holiday, Christmas Parade and other festivities to commence on Saturday
VIDEO: Christmas in Novinger: 36th Annual Novinger Country Christmas Craft Festival
701 E LaHarpe, Suite C
Kirksville, MO 63501
Phone: 660-665-2808
Email: news@kirksvilledailyexpress.com
Sections
Links of interest
Nearby News Sites