India vs Netherlands, T20 World Cup 2022 Highlights: Clinical IND thump NED by 56 runs – The Indian Express
India vs Netherlands T20 World Cup 2022 Highlights: India beat the Netherlands by 56 runs after putting 179/2 on the board in their T20 World Cup match on Thursday. Opting to bat, India produced a solid batting display with Rohit Sharma (53), Virat Kohli (62 not out) and Suryakumar Yadav (51 not out) — all scoring scintillating fifties.
India Playing XI: Rohit Sharma (c), KL Rahul, Virat Kohli, Suryakumar Yadav, Hardik Pandya, Dinesh Karthik(w), Axar Patel, Ravichandran Ashwin, Bhuvneshwar Kumar, Mohammed Shami and Arshdeep Singh.
Netherlands Playing XI: Scott Edwards(wk/c), Vikramjit Singh, Max ODowd, Bas de Leede, Colin Ackermann, Tom Cooper,Tim Pringle, Logan van Beek, Shariz Ahmad, Fred Klaassen and Paul van Meekeren.
Follow IND vs NED highlights from Sydney below.

As Paul van Meekeren joyfully clubbed the last ball of the match to the straight boundary to make it three successive fours off Arshdeep Singh and punched gloves with his partner Shariz Ahmad, the Netherlands last pair had taken 22 joyous runs off the final two overs. However, even as the Dutch went down in a blaze of hits, the chase had never taken off on a slow joyless Sydney wicket, into its fourth innings of the day.
Bhuvneshwar Kumar had begun India's defence of 179 with two consecutive maidens; the spinners Axar Patel and Ravichandran Ashwin had then tied down the Netherlands middle order completely, so much so that only one of the Dutch top six managed a strike-rate above run a ball. Things had cruelly unravelled for Netherlands after they had kept the stars of the Indian top order, Rohit Sharma and Virat Kohli, to only 53 runs after the first nine overs.
– Abhishek Purohit
Bhuvneshwar Kumar is a highly deceptive bowler and his variations can be a nightmare for someone who hasn't faced him before. The young Netherlands opener, Vikramjit Singh, had a torturous existence in his eight-ball over against Bhuvneshwar.
He thought he had the length to play a forcing drive but the ball swung in late and he had to make a hasty, awkward check on his stroke. He tried walking down the track to counter the movement but instead, Bhuvneshwar just slanted it past him this time.
After he'd punched a couple of pulled-back deliveries to cover, he was probably expecting another similar ball but Bhuvneshwar went full for his toes now. Vikramjit was so taken aback that he had no time to make any adjustment and wore the ball flush on his boot. Fortunately for him, the ball was swinging and would have missed leg stump. Another time, he half-ducked into a surprise lifter and nearly popped it back to the bowler.
Having tried all sorts and failed, Vikramjit had one final heave at Bhuvneshwar, missed and was bowled for 1.
Arshdeep Singh with the final over and we do get a late flourish as Van Meekeren hits the last three balls of the innings for three boundaries. Something to cheer about for the Dutch fans. Score after 20 overs, NED: 123/9 | India win by 56 runs
Arshdeep Singh gets two wickets in a over. First he gets Van Beek caught behind and then Fred Klaassen 0(1) departs on a duck. LBW! India had to go for the review and it was a successful one.
Bhuvneshwar Kumar gets his 2nd wicket, and Skipper Scott Edwards 5(8) departs. The Netherlands need 85 runs in 19 balls.
Mohammed Shami comes back into the attack and picks up a wicket. Virat Kohli takes a good catch running backwards. Tim Pringle's cameo comes to an end for 20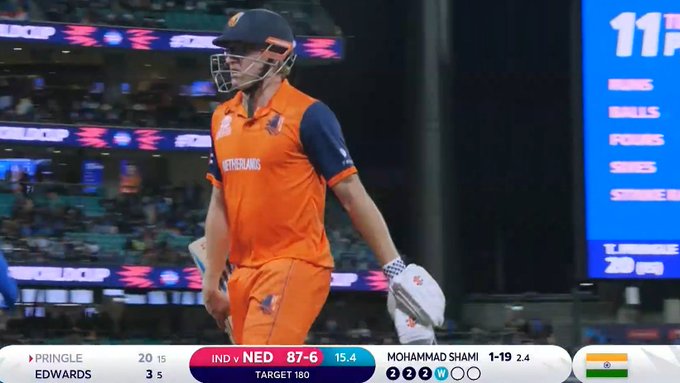 The Dutch are getting a move Tim Pringle takes on Ashwin and steps out and sends its over long-on for a maximum.
Score after 15 overs, NED: 81/5
First Ackermann goes big but is caught in the deep and then Tom Cooper plays a poor sweep shot which results in a wicket. India continues to dominate as the Netherlands keep losing wickets in chase.
Score after 13 overs, NED: 64/5
Axar Patel bags his 2nd wicket, Bas de Leede departs. After 10 overs, Netherlands are 51/3, and Need 129 runs in 60 balls. Time for drinks
SHE SAID YES!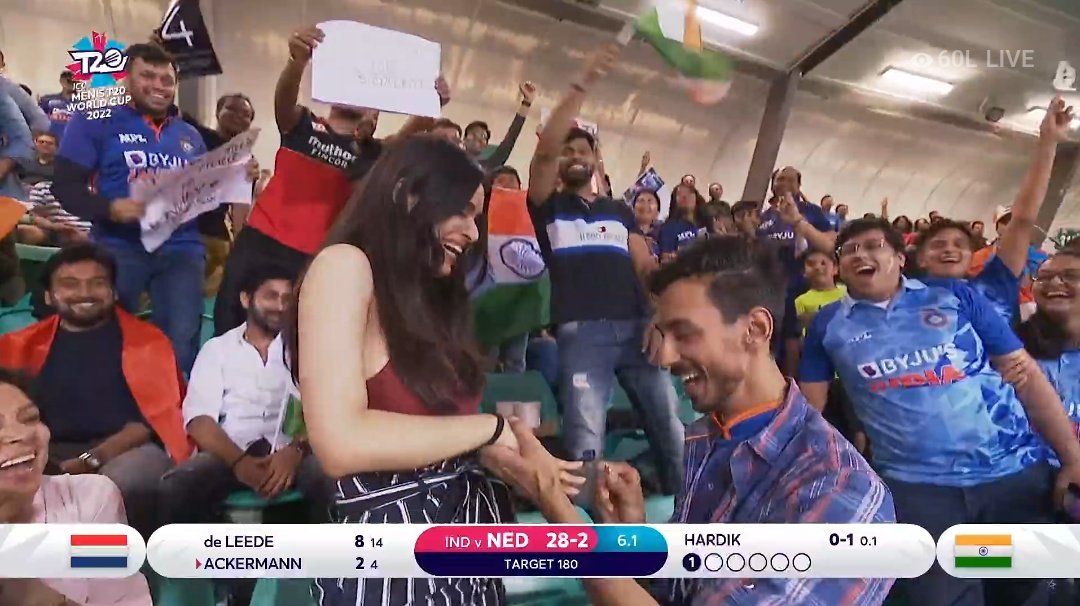 WICKET! Axar Patel strikes in his first over! The well settled Max ODowd is gone for 16. Just as we were saying that he was looking good in the middle, the Dutchman shuffles a bit too much and loses his stumps. Netherlands lose their 2nd wicket in powerplay.
Score after 5 overs, NED: 22/2
Max ODowd whacks Shami for a four who strays down the leg. Max ODowd is batting well here but does need some support.
Bowled!! Vikramjit Singh is clean-bowled by Bhuvneshwar Kumar. He was beaten by the pace and was guilty of playing across the line.
Score after 3 overs, NED: 11/1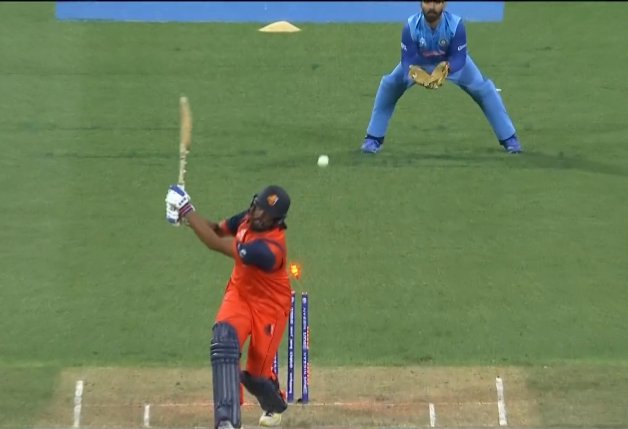 Vikramjit Singh and Max ODowd are at the crease. Vikramjit Singh is on strike. Bhuvneshwar will open the attack. Bhuvneshwar Kumar starts off with a maiden.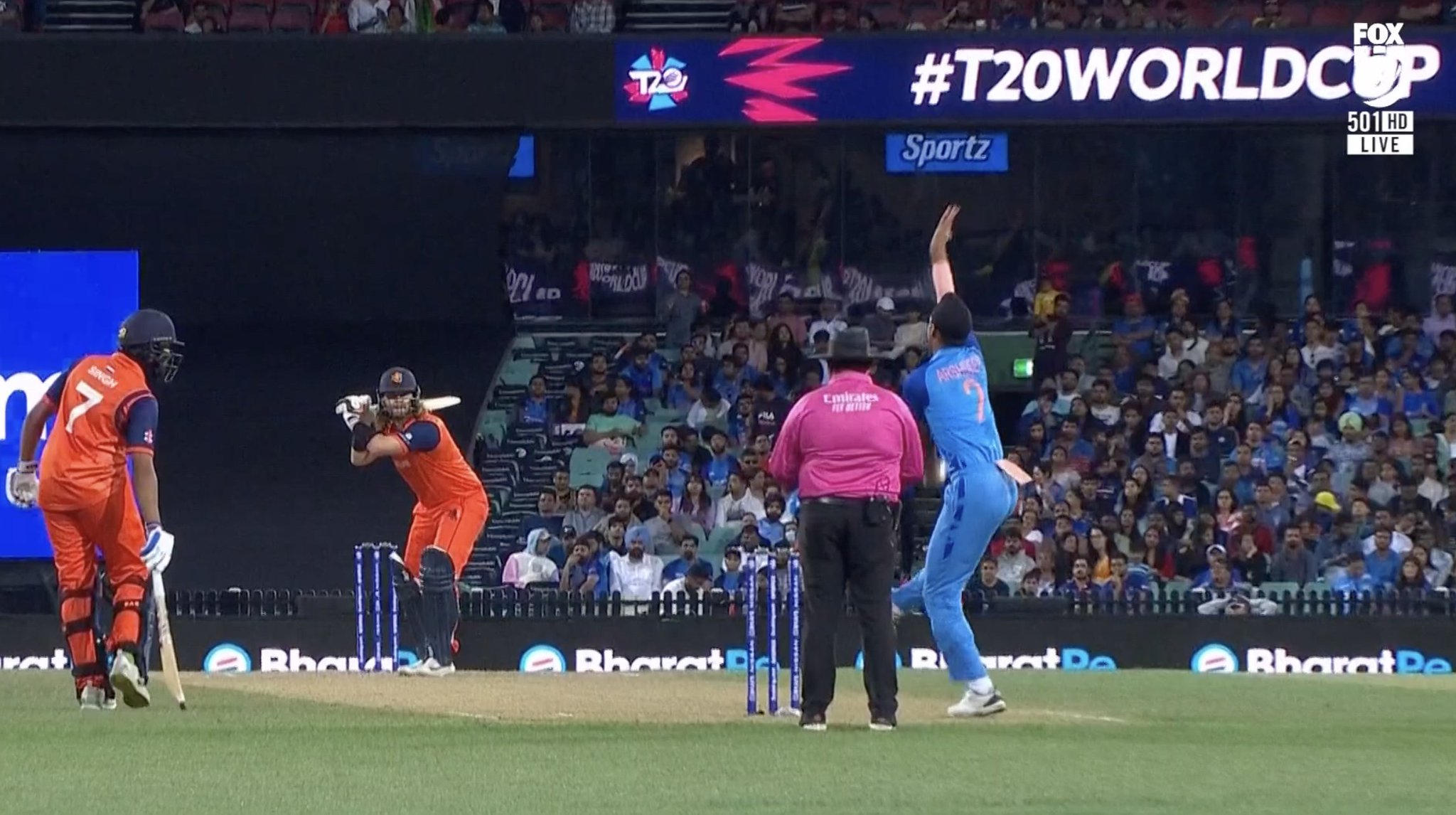 Tim Pringle drew immediate comparisons with Daniel Vettori. Like the latter, he bowls left-arm spin, has a similar action, perhaps a touch slower than Vettori, is spectacled, keeps his hair unkempt, and is a Kiwi by descent. The son of former New Zealand fast bowler, Chris Pringle, most reputed for his run-less final over to help New Zealand beat Australia in Hobart in 1990, and most notorious for admitting that he tampered with the ball en route his seven for 52 against Pakistan in Faisalabad, for he thought "Pakistan were doing the same." But persistent injuries meant his career was prematurely stalled. Later, he shifted to the Netherlands to play club cricket. Tim, thus, was born in Hague. Like his father, he started his career as a seamer, before injuries began to creep up, like it was for his father, and he switched to left-arm spin. Chris took Tim to his hometown in Tauranga so that his cricketing career could blossom. And it did, as Tim made rapid progress and played a clutch of games for the New Zealand U-19 team. But early this year, he decided to make use of his Dutch passport and shifted to Holland. A move that is benefitting the Dutch, as he has been their thriftiest bowler, leaking just 5.62 runs in five games.
– Sandip G
India after starting slowly in the first six has accelerated pretty well. Surya Kumar Yadav, Virat Kohli and Rohit Sharma all crossed the 50 mark. Surya flicked one into the legside crossing the landmark of the final ball of the innings. It will be a challenging run chase for the Dutch given the surface is gripping a touch.
That's a brilliant half-century by
@surya_14kumar
off just 25 deliveries 👌🙌
Scorecard – https://t.co/Zmq1aoK16Q #INDvNED #T20WorldCup pic.twitter.com/9v0qo47U9A
Suryakumar Yadav came out ready to shuffle around and create his own pace with his whips and flicks behind square on the slow Sydney pitch. But when the ball was pitched up outside off, he was ready with the classy lofted and along-the-ground cover drives. On these Australian grounds, the gap between the sweeper and long-off can be massive. Virat Kohli had exploited it against Pakistan with chips over the man in the circle at extra cover. He'd kept three fielders – extra cover, long-off and the sweeper – interested with a sliced chip off Shaheen Shah Afridi, and the ball had trickled into the rope, beating all three pursuers. Suryakumar did the same off Bas de Leede in the 16th over against Netherlands, opening the face of the bat and lofting high in that same gap, and keeping the same three fielders interested until the very end to collect another four. – Abhishek Purohit

Meekeren impresses again. Though he picked only one wicket today he is the leading wicket-taker of the tournament. He bowled well in difficult situations keeping it tight in today's game.
With Surya and Kohli set. India looks to post a big total.

India's Virat Kohli reacts after winning the T20 World Cup cricket match against Pakistan in Melbourne, Australia, Sunday, Oct. 23, 2022. (AP Photo/Asanka Brendon Ratnayake)
A match between India and the Netherlands would not be considered box-office material, but a certain Virat Kohli has ensured that the eyes of the cricketing world would be fixed on the Sydney Cricket Ground on Thursday.
After his monumental match-winning innings against Pakistan, every move of the charismatic master batsman will be followed by the legions of fans, and not just those from India. Aussies are also fascinated by the former India captain, who plays the game with an approach traditionally associated with champion sides and players from these shores.